Treasury Bond
Central Bank of Myanmar auctions Government of the Union of Myanmar Treasury Bond every month, usually at every third Tuesday of a month. Auction date are announced 3 months in advance.
Treasury Bonds Auction Calendar
| No. | Time | Months | Auction Date |
| --- | --- | --- | --- |
| 1 | 47th (GB0047) | 2020, July | 21-07-2020 ( Tuesday ) |
| 2 | 48th (GB0048) | 2020, August | 18-08-2020 ( Tuesday ) |
| 3 | 49th (GB0049) | 2020, September | 15-09-2020 ( Tuesday ) |
Usually on second Friday of a month, Central Bank of Myanmar announce types of bonds, term of bonds, coupon rates and indicative volume that will be auctioned.
For example – if the auction is on 17th (Tuesday), the announcement from Central Bank will be made on 13th (Friday).
Types of Bonds and Coupons
Types of Bonds
2 Years Treasury Bonds
3 Years Treasury Bonds
5 Years Treasury Bonds
Coupons
Usually ,Treasury Bond Coupon rate per annum is 7.25% – 7.50% .
Coupon are paid twice a year, regularly on 15 May and on 15 November.
In addition to coupon payment, bond investor can also receive discount on face value (Yield rate).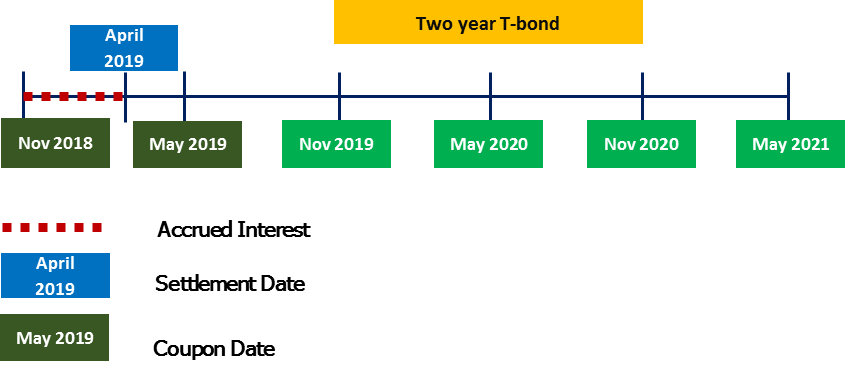 Accrued Interest is an interest you have to pay in advance because of buying bond between coupon payment period.
( e.g. Let assume that you purchase bond in April 2019, but in May 2019 you will receive coupon amount for six months (from November 2018 to May 2019). Since you purchased bond in April 2019, you are entitled to coupon amount for one month (from April 2019 to May 2019). In May 2019, you will get coupon amount for full six months of which five months are not entitled to you. This is the reason you have to pay coupon amount for five months in advance.

Please contact us here for more details about coupon payment, accrued interest, yield rate, and commission fee.